 We're looking for an energetic and self-motivated individual who is looking for an exciting and satisfying career and a great learning opportunity within a fantastic team.
As a Junior IT Administrator will be responsible for providing outstanding support of IT systems and networking infrastructure to all our heroes and will be handling a multitude of operational tasks such as installing applications and software remotely and in-person, maintain end user IT equipment, troubleshooting and resolving issues, automating solutions for the team, and documentation.

Great communication skills will go a long way in this role to ensure excellent customer service, and optimal coordination with the users and the team. Moreover, we are looking for someone who has a growth mindset, thrives in a fast-paced environment, and who gets a kick out of problem solving and challenging ideas and way of doing things.

Based in Malta and reporting to the Manager - IT Operations & Compliance, the selected person will be responsible to:
Provide timely IT related end user support by being the go-to Level 1 support person.
Provide a Service-Oriented Approach to our internal users, as well as proper communication, coordination and follow ups.
Operate within an incident monitoring tool environment.
Install, deploy, and maintain end user IT equipment including laptops, mobile devices and printers.
Installing OSs, security software and other company-needed applications remotely and in-person.
Master office identity and access management.
Follow-up on open issues that arise throughout the course of daily duties and/or other assignments being performed.
Maintain and assist with the company's network and security system.
Assist with Internal IT Server and Systems Infrastructure operations, including backup, monitoring, and reporting.
Responsible to procure, maintain and securely recycle internal IT equipment.
Maintain documentation and inventory of internal IT systems.
Perform additional duties and assignments as required in support of internal IT systems.

Do you have what it takes? This is what we're looking for:
A strong interpersonal and customer service skill.
A 'can do' attitude.
A team player.
Ability to work without supervision
A drive with an ability to prioritize issues based on impact.
Excellent communication skills
Resourcefulness and a problem-solving aptitude
An academic qualification in IT, a degree would be an asset
Willingness to learn and expand one's knowledge
Experience in a similar position
Knowledge or experience in any of the following technologies:

Office 365 and SharePoint
Windows and Mac
Printing solutions
Basic network skills /troubleshooting (LAN, WAN)
Diagnose hardware and software issues
Hardware preparation (installation of laptops/PCs)
So why Hero Gaming you may ask?
As one of the fastest growing stars on the iGaming sky, you will never have a dull day here. New exciting projects and tasks will fill your days where you are surrounded by a warm and friendly atmosphere. 
Who We Are:
Founded in 2013, Hero Gaming focuses on offering the best gaming experience in the market through customer centricity and diverse options for its customers through speed, simplicity, and gamification. The humble and truly passionate team behind our brands not only come up with new and creative ideas, but also have a great track record in executing projects with agility. Thanks to our brilliant team, Hero Gaming has become one of the most reputable companies in the industry.
How we do it
Opportunistic, fast-thinking, fast-working, fast-playing and fast-learning, Hero Gaming is committed to transparency, collaboration, experimentation, and agility. We Love what we do, we Dare to take risks, to think differently, and we Win by working hard to achieve our goals and beyond.
We believe that we are on a journey together which is revolutionizing our industry. We have created an environment where innovation and creativity are fostered. Our Heroes are empowered and supported to be the best version of themselves by enjoying flexibility, career development, fantastic benefits, and most importantly – a great culture.
We are proud to be an equal opportunity workplace, our heroes have many different backgrounds, perspectives, and lifestyles, and we like it that way. We embrace and celebrate diversity; it is one of our core strengths that enable us to dream big, think big and make big things happen.
We work hard and we celebrate in style… just like any Hero would!
Benefits
Here at Hero Gaming, we strive to give all our employees the best working experience in the industry.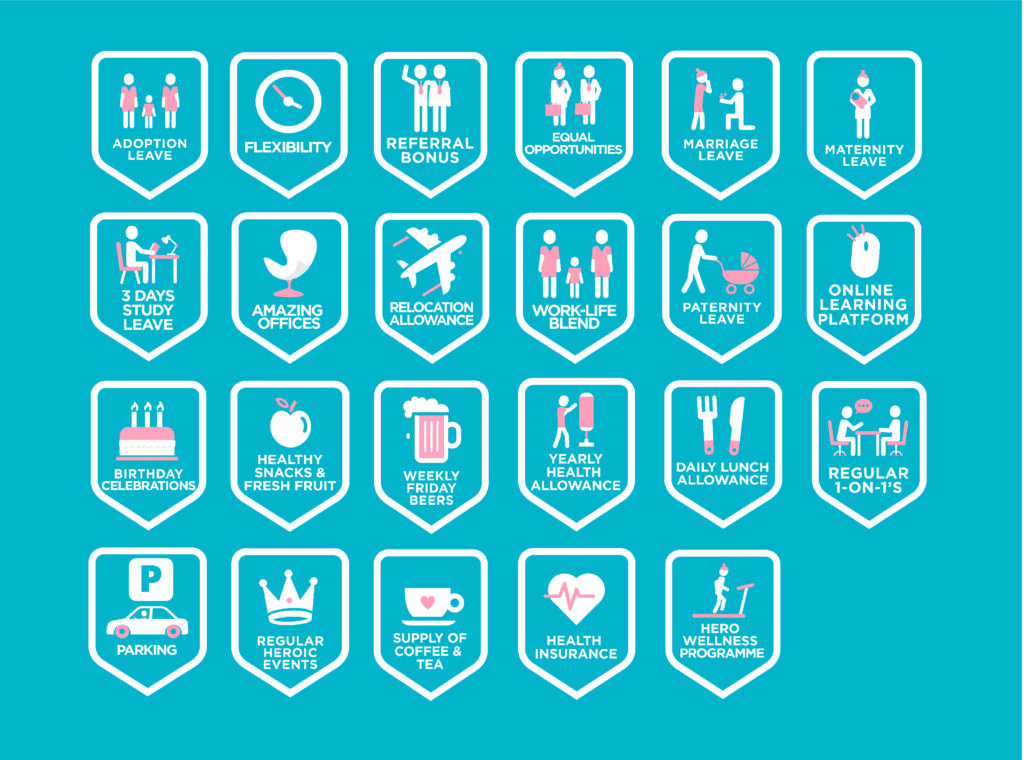 Department

Locations

Employment type

Full-time
Workplace & Culture
Culture is really all about how we learn to treat each other, how we learn to work together, the pace we set, how far we want to grow, and how much we want to win.
#LoveDareWin is the motto we live by at Hero Gaming. We love what we do, dare to be innovative and win by doing what we believe in. The iGaming industry is one of the most fast paced industries in the world and, therefore, staying responsible, agile and open minded is fundamental to our company's continued success.
About Hero Gaming
Hero Gaming was founded in 2013 by Georg Westin, who was at the forefront of offering gamified casinos – a unique experience which players had not previously seen. Casino Heroes was launched in 2014 with an initial focus on Scandinavian countries.
Throughout the past few years, our multi-brand strategy grew to include the launch of a number of new brands to our ever-growing portfolio, aimed at providing the best experience for our players. The speed at which these brands went to market is a reflection of the passion for innovation and agility which in turn enabled us to reap great benefits for the business and for our Heroes. We're now thrilled to embark on our next adventure where we're daring to dream to take Hero Gaming to a global level.
The humble and truly passionate team behind our brands do not only come up with new and creative ideas, but also have a great track record in executing projects with agility. Thanks to our great team, Hero Gaming has become one of the industry's most reputable companies.